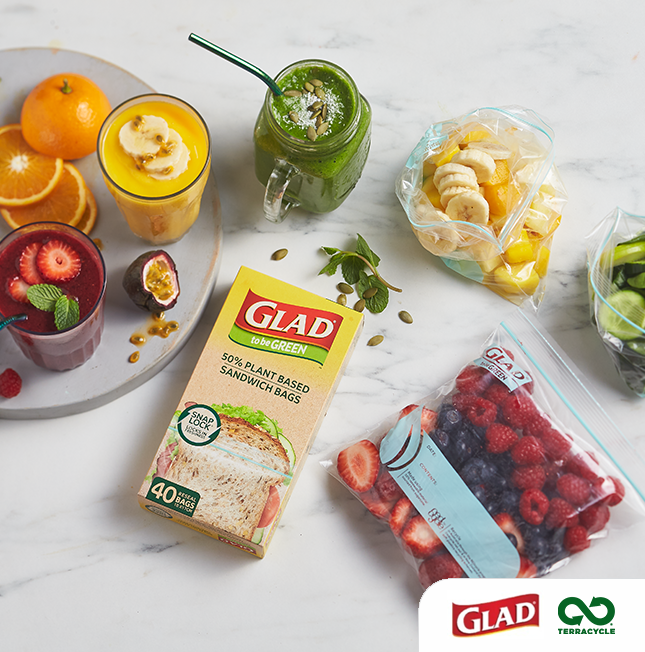 Recycle Glad® Wrap & Reseal Bags
#ChangeTheOutcome on soft plastics by recycling smarter
Soft plastics no longer need to end up in landfill, by simply making one small change you have the ability to prevent tons of plastic going into landfill each year by disposing of your soft plastics such as GLAD SnapLock® Reseal bags and GLAD® Wrap correctly. GLAD in partnership with industry innovators Soft Plastics Recycling and Terracycle are changing the outcome on soft plastics, creating a circular economy for soft plastics and turning recycled plastic into new, long lasting solutions such as outdoor furniture and garden products.
How can you make an impact?
By making a few small changes to your soft plastics disposal routine you have the ability to make real, long lasting impact.
Scrunch
If you can scrunch it, it's soft plastic! If you can't and its plastic, it probably belongs in your kerbside recycling bin.
Alternatively check the labels on pack, all eligible GLAD® products including GLAD SnapLock® Reseal bags, GLAD® Wrap and Glad to be Green® 50% Plant Based Cling Wrap feature either the REDCycle logo or mention that the product can be recycled through a soft plastics recycling scheme.
Collect
Collect soft plastics separately to your garbage and make sure they are empty of any crumbs and food before disposal. We recommend keeping them in a large shopping bag or bin liner.
Drop
Both Soft Plastics Recycling  and Terracycle have convenient localised collection bins making recycling soft plastics an easy part of your weekly routine.
Soft Plastics Recycling
Soft Plastics Recycling have partnered with selected Countdown, The Warehouse, New World, Pak'n Save stores allowing you to drop off your soft plastics when you're instore as part of your weekly shop.
Soft Plastics Recycling bins are typically located near checkout, ask at the customer service desk if you can't locate the bin.
Find your closest collection point here.
Terracycle
Terracycle also has numerous local collection points for easy disposal. Create your Terracycle account to find your local collection point here.
Terracycle also offers free at home collection. Once you have collected a few months' worth of soft plastic you can simply request a shipping label via the Terracycle website.
Recreate
After your soft plastic have been collected the real magic begins! Soft plastics are recycled and transformed into new recycled plastic products like signs, fences or park benches.