Glad Food Storage Recycling Program

JOIN THE GLAD FOOD STORAGE BRIGADE
We all use plastics at home to store food and keep it fresher for longer, but with environmental impacts growing and families and schools moving towards a litterless environment, what happens when it's time for 'all this plastic' to be disposed of?
At Glad®, we asked ourselves the same important question.
Here's our answer…Rather than contribute to landfills and ever-increasing volumes of rubbish we've decided that change is a good thing and an exciting step forward. So we'd like to introduce you to our recycling/upcycling initiative and partnership with global recycling company – Terracycle …
The Glad® Food Storage Brigade.
With an eye firmly on the future to reduce plastic waste, the Brigade is a truly unique recycling solution to help divert plastic from landfill and educate people on the way they think about plastic waste and the actions they then take to reduce it.
Here's how to get involved.
Collect any used Glad® food storage products from home, school or work.
Sign up on the TerraCycle website to claim your free shipping label.
Then drop off boxed GLAD plastic waste at any NZ Post Office.
The Glad® Food Storage Brigade accepts:
• Glad® Cling Wrap® (plastic film)
• Glad® Snap Lock® Bags
• Glad® Zip Slide® Bags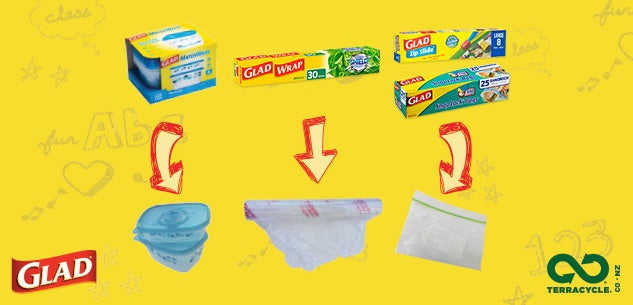 For accepted Glad® food storage products received, your collection location is awarded 2 TerraCycle points. Redeem these points for a payment of NZD$0.01 per point, which can then be allocated towards a school or charity of your choice.
For more information on the Glad® Food Storage Brigade, to SIGN UP or print off posters for your school or workplace, visit: http://www.terracycle.co.nz/en-NZ/brigades/glad-food-storage-brigade.
Watch how Reremoana Primary School teamed up with Glad® and Terracycle to launch their very own Food Storage Brigade Recycling Programme: